| | |
| --- | --- |
| Copyright | (c) George Ungureanu 2015-2018 |
| License | BSD-style (see the file LICENSE) |
| Maintainer | ugeorge@kth.se |
| Stability | experimental |
| Portability | portable |
| Safe Haskell | Safe |
| Language | Haskell2010 |
The "spiritual parent" of this modeling framework dates as back as [Sander04] which presented ForSyDe, an EDSL for describing heterogeneous systems as networks of processes communicating through signals. In ForSyDe, processes alone capture the timing semantics of execution and synchronization according to a certain model of computation (MoC). The shallow implementation of ForSyDe, forsyde-shallow provides libraries of higher-order functions for instantiating processes called process constructors for several MoCs. The formal foundation upon which ForSyDe defines its semantics is the tagged signal model [Lee98], which is a denotational framework introduced by Lee and Sangiovanni-Vincentelli as a common meta model for describing properties of concurrent systems in terms of their behavior.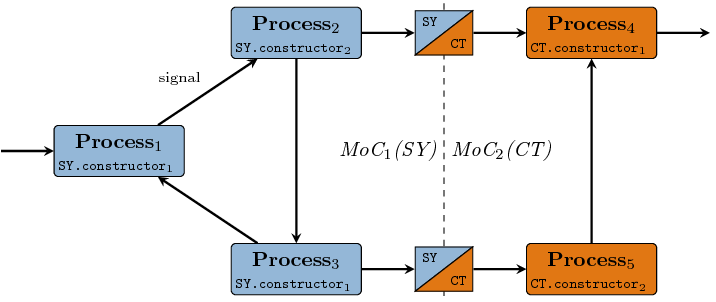 The forsyde-atom project started as a proof-of-concept for the atom-based approach to cyber-physical systems (CPS) introduced in [Ungureanu17]. This approach extends the ideas of the tagged signal model by systematically deconstructing processes to their basic semantics and recreating them using a minimal language of primitive building blocks called atoms. It also expands the scope of this model by exploiting more aspects of cyber-physical systems than just timing, but also adding primitives for parallelism, behavior extensions, etc, each in its own interacting environment called layer. You can read more about layers in the corresponding section further on.
The API documentation is structured as follows: this page provides an overview of the general notions and concepts, introducing the separate modules and the motivation behind them. Each major module corresponds to a separate layer described by a type class, and contains a number of sub-modules, mainly providing instances and helpers for their respective layer. The documentation for each module contains in-depth knowledge and examples. For more complex examples and tutorials follow the links in the project web page.
IMPORTANT!!! All multi-argument functions and utilities provided by the forsyde-atom API are named along the lines of functionMN where M represents the number of curried inputs (i.e. a1 -> a2 -> ... -> aM), while N represents the number of tupled outputs (i.e. (b1,b2,...,bN)). To avoid repetition we only provide documentation for functions with 2 inputs and 2 outputs (i.e. function22). In case the provided functions do not suffice, feel free to implement your own patterns following the examples in the source code.